MEMBACA URGENSI MODERASI DALAM MADĪNAH AL-FĀḌILAH AL-FARĀBI
STUDI WACANA PEMBANGUNAN BERKELANJUTAN DI INDONESIA
Keywords:
Al-Farābi, Development, Indonesia, Moderation, Sustainable
Abstract
This paper is a literature review of Al-Farābi's thoughts on the urgency of the value of moderation in the discourse of sustainable development in Indonesia which is studied through his magnumopus entitled "Madīnah Al-Fāḍilah". By using a descriptive-analytical approach, it is concluded that the value of moderation is the main basis for understanding the role and existence of individuals to actualize a variety of sustainable development through the implementation of the 4 pillars of moderation in Al-Farābi's view, namely unity, deliberation, mutual cooperation, and character. The four pillars of moderation in Al-Farābi's view seek to build the closeness of each individual in social life, in order to discuss solving various problems that hinder the factors of sustainable development. The implementation of the 4 pillars of moderation in Al-Farābi's view can be realized through the existence of a leader as an existence that influences the paradigm and behavior of people in a region. That is, leaders are here to unite people of various groups to realize their role and position in order to optimize the value of moderation as the basis for sustainable development in reality. The final result of this paper is to understand the application of Al-Farābi's value of moderation in welcoming sustainable development in Indonesia.
Downloads
Download data is not yet available.
References
Akhmadi, Agus. 2019. "Moderasi Beragama dalam Keragaman Indonesia." Jurnal Diklat Keagamaan 13 (2): 45-55. https://bdksurabaya.e-journal.id/bdksurabaya/article/view/82.
Badan Pengembangan dan Pembinaan Bahasa. 2016. "Moderat." Dalam KBBI Daring. Badan Pengembangan dan Pembinaan Bahasa, Kementerian Pendidikan, Kebudayaan, Riset, dan Teknologi Republik Indonesia. https://kbbi.kemdikbud.go.id/entri/moderat.
Bahri, Syaiful. 2021. "Tingkat Pengangguran Terbuka di Indonesia dan Determinannya Tahun 2016-2019: Analisis Data Panel." Skripsi, Universitas Muhammadiyah Surakarta.
Dwianto, Akbar. 2018. "Konsep Negara Utama (al-Madīnah al-Fādhilah) al-Farabi dan Relevansinya bagi Negara Indonesia." Skripsi, Universitas Islam Negeri Raden Intan Lampung.
Farābi, Abu Naṣr Al-. 2004. Arā Ahl Al-Madīnah Al-Fāḍilah. Tehran: Ancaman-e Falsafeh-e Iran.
Fitri, Agus Zaenul. 2015. "Pendidikan Islam Wasathiyah: Melawan Arus Pemikiran Takfiri di Nusantara." Jurnal Kuriositas 8 (1): 45-53. https://ejurnal.iainpare.ac.id/index.php/kuriositas/article/view/147.
Kementerian Agama Republik Indonesia. 2019. Moderasi Beragama. Jakarta: Badan Litbang dan Diklat Kementerian Agama RI.
Khair, Nurul. 2021. "Moderasi Ayat-Ayat Hijab dalam Penafsiran Muhammad Husain Thabathabai." Zawiyah: Jurnal Pemikiran Islam 7 (2): 128-149. https://ejournal.iainkendari.ac.id/index.php/zawiyah/article/view/3088/1671.
Khoiri, Ahmad. 2019. "Moderasi Islam dan Akulturasi Budaya: Revitalisasi Kemajuan Peradaban Islam Nusantara." Islamadina: Jurnal Pemikiran Islam 20 (1): 1-17. http://jurnalnasional.ump. ac.id/index.php/ISLAMADINA/article/view/4372.
Klarin, Tomislav. 2018. "The Concept of Sustainable Development: From its Beginning to the Contemporary Issue." Zagreb: Journal Economics and Business 20 (1): 67-94. https://ideas.repec.org/a/zag/zirebs/v21y2018i1p67-94.html.
Lestari, Dewi. 2016. "Konsep Hijab Menurut Murtadha Mutahhari." Skripsi, UIN Sunan Kalijaga Yogyakarta.
Mahmuda, Mahmuda. 2019. "Konsep Negar Ideal/ Utama Menurut al-Fārābī." Al-Lubb: Journal of Islamic Thought and Muslim Culture (JITMC) 1 (2): 182-198. http://dx.doi.org/10.51900/lubb.v1i2.7884.
Mulyadi, Mohammad. 2015. Pembangunan Berkelanjutan: Dimensi Sosial, Ekonomi, dan Lingkungan. Jakarta: Pusat Pengkajian, Pengolahan Data dan Informasi.
Mutiani, Tika. 2020. "Negara Utama Menurut Al-Farabi: Konsep dan Relevansinya dalam Kehidupan Bernegara Masa Kini." Jurnal Al-Ijtimaiyyah 6 (2): 29-42. http://dx.doi.org/10.22373/al-ijtimaiyyah.v6i2.6892.
Prastowo, Andi. 2011. Metode Penelitian Kualitatif dalam Perspektif Rancangan Penelitian. Yogyakarta: Ar-Ruzz Media.
Pratiwi, Ananda. 2020. Indah Moderasi Beragama. Pare-Pare: Nusantara Press.
Pusiknas Bareskrim Polri. 2019. "Kriminalitas dan Lalu Lintas: Dalam Angka Tahun 2018 dan Semester I 2019." Jurnal Data Kriminalitas, Edisi 2019.
Said, Abdullah. 2019. "Filsafat Politik Al-Farabi." Indonesian Journal of Islamic Theology and Philosophy 1 (1): 67-78. http://ejournal.radenintan.ac.id/index.php/ijitp/article/view/4097.
Sariding, Diding. 2020. "Konsepsi Negara Sejahtera Menurut Al-Farabi." STAATSRECHT: Indonesia Constitutional Law Journal 4 (1): 90-108. https://journal.uinjkt.ac.id/index.php/staatsrech/article/view/16127/pdf.
Subchi, Imam. 2018. Pengantar Antropologi. Depok: Rajawali Pers.
Setianingtias, Retno. 2019. "Pemodelan Indikator Tujuan Pembangunan Berkelanjutan di Indonesia." Jurnal Ekonomi dan Pembangunan 27 (2): 61-74. https://jurnalekonomi.lipi.go.id/JEP/article/view/323.
Suharjanto, Gatot. 2013. "Keterkaitan Tipologi dengan Fungsi." Comtech 4 (2): 975-982. https://www.neliti.com/publications/168030/keterkaitan-tipologi-dengan-fungsi-dan-bentuk-studi-kasus-bangunan-masjid.
Ulinnuha, Muhammad dan Mamluatun Nafisah. 2020. "Moderasi Beragama Perspektif Hasbi Ash-Shiddieqy, Hamka, dan Quraish Shihab." SUHUF 13 (1), 55-76. https://doi.org/10.22548/shf.v13i1.519.
Usaman, Husaini dan Purnomo Setiady Akbar. 2014. Metode Penelitian Sosial. Jakarta Bumi Aksara.
Wain, Alexander. 2012. "A Critical Study of Mabādi' Arā Ahl al-Madīna al-Fadīla: The Role of Islam in the Philosophy of Abū Nasr al-Fārābī." Journal Islamic Philosophy 8 (2): 45-78. https://www.academia.edu/1789790/A_Critical_Study_of_Mabadi_Ara_Ahl_Madinat_al-Fadilah_The_Role_of_Islam_in_the_Philosophy_of_Abu_Nasr_al-Farabi.
Zaini, M. 2015. "Implementasi Pembangunan Berkelanjutan Berwawasan Lingkungan Studi pada Keluruhan Kelurahan Lempake Kecamatan Samarinda Utara Kota Samarinda." Jurnal Ekonomi dan Pembangunan 15 (2): 24-31. https://jurnal.uns.ac.id/jiep/article/view/9904.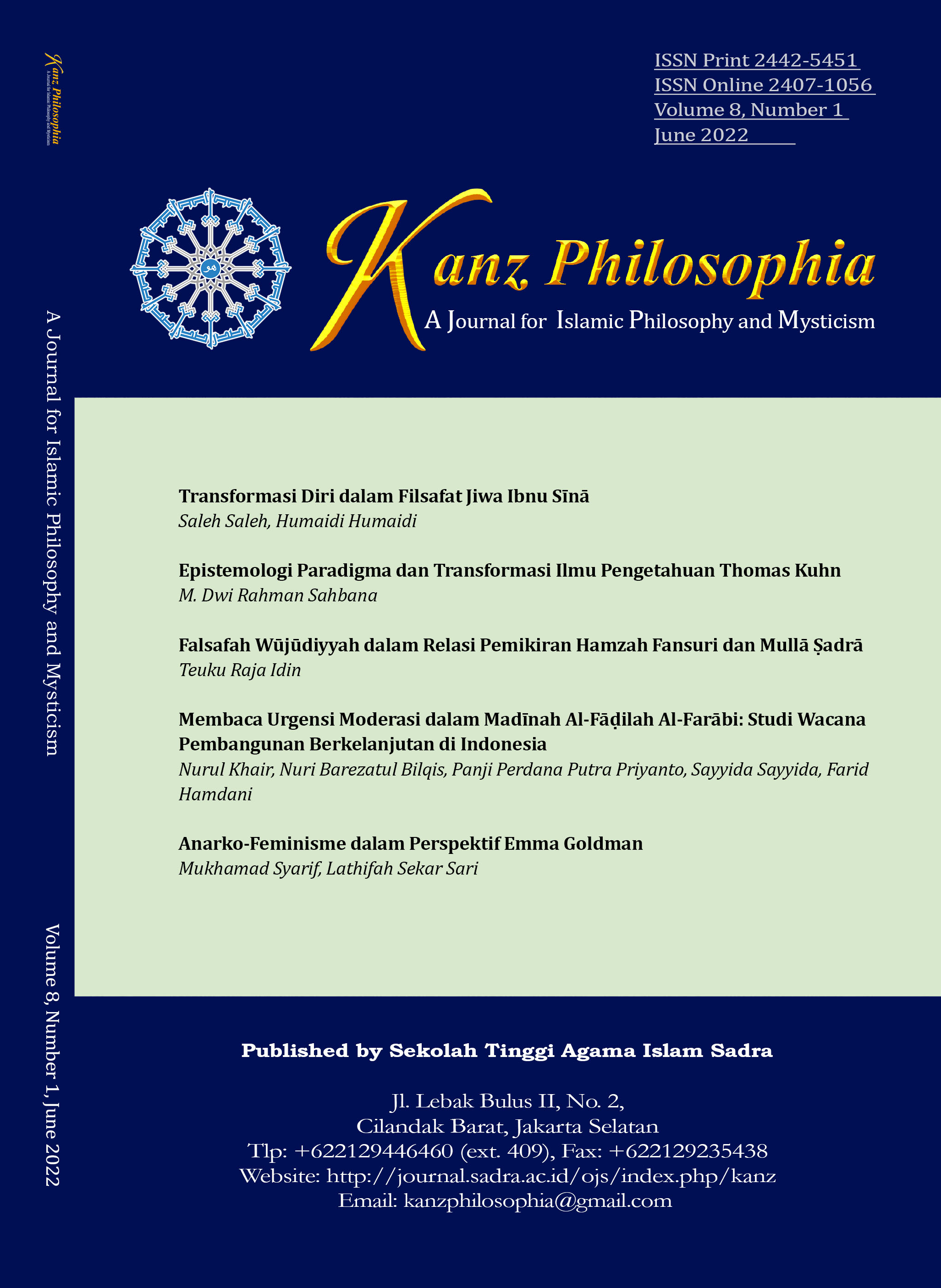 Downloads
How to Cite
Khair, N., Bilqis, N. B., Priyanto, P. P. P., Sayyida, S., & Hamdani, F. (2022). MEMBACA URGENSI MODERASI DALAM MADĪNAH AL-FĀḌILAH AL-FARĀBI: STUDI WACANA PEMBANGUNAN BERKELANJUTAN DI INDONESIA. Kanz Philosophia: A Journal for Islamic Philosophy and Mysticism, 8(1), 75–90. https://doi.org/10.20871/kpjipm.v8i1.210
License
Copyright (c) 2022 Kanz Philosophia A Journal for Islamic Philosophy and Mysticism
This work is licensed under a Creative Commons Attribution-NonCommercial-ShareAlike 4.0 International License.
Most read articles by the same author(s)